English
英文
Main
The mission of the English Department is to provide language education where students develop their English proficiency for study, work and leisure; extend their knowledge and experience of other cultures through the English medium; develop the ability to use English confidently; and help them overcome the challenges of the keenly competitive knowledge-based society of Hong Kong. To get students exposed to English as a second language in a language rich environment, we have provided a wide range of extra-curricular activities and experiences that help students acquire new skills, develop old ones and learn to be an expressive language user. We hope to inspire in our students a love for the language and foster an appreciation of the English language as an art.
Organisation
Panel chair, members, AT and NET
Aims
The teachers of the English Department work closely together to:
provide greater opportunities for students to use English purposefully
develop students' critical thinking and encourage free expression and creativity
make use of learner-centered instruction to encourage their independence
promote effective, independent and lifelong learning
deliver the new senior secondary (NSS) syllabus
provide an English-rich learning environment
Curriculum
To ensure that students have the strongest exposure to English, class allocation of English-related subjects is as follows:
Lessons Per Cycle
General English Lesson
Environmental Studies
English Reading
Oral, Aural English
Information Technology
Integrated Science
1
8
2
1
1
2
5
2
8
2
1
1
2
5
3
7
1
1
4
10
1
5
9
1
6
10
Details
Form
Syllabus
Activities
1

Bridging Course
Module 1: Study, School Life and Work
Module 2: Getting Along with Others
Module 3: Teenage Life
Module 4: The World Around Us
Module 5: Wonderful Things and People

Out and About in Stanley
Quizpedia
Past-tense Project
Eating Out Activity

2

Ice-breaking
Module 1: Shopping Fun/Conscious Consumption
Module 2: Save Our Planet!/Grow a Sustainable Future
Module 3: Trendsetters/Rethinking Fashion
Module 4: Wonderful Wildlife/Endangered Species
Module 5: Amazing Stories/The Magic of Storytelling

Summerbridge
xbridge Summer Camp
Fashion Show
Elite Study Circles
English Language Institute/China (ELIC) Summer Camp

3

Module 1: The World Around Us
Module 2: Rights and Responsibilities
Module 3: Wonderful Things and People
Module 4: Humans and the Environment

WSE Cosmopolitan Youth English Summer Camp
Elite Study Circles
TSA Oral Practice
Interclass Reading Sharing

4

Module 1: Study and Travel
Module 2: Growing-up // Nature and Environment
Module 3: Sports and Health
Module 4: Learning English Through Short Stories

5

Module 1: Popular Culture
Module 2: SBA Part A: Non-print Fiction
Module 3: Sports Communication
Module 4: Workplace Communication
Module 5: Social Issues

Inter-school Oral Practice
Elite Study Circles

6
HKDSE exam practice

Inter-school Oral Practice
Mastermind Competition
Assessment
We put emphasis on both summative and formative assessments. By making a good use of purposeful tasks and activities, students are expected to gain insights concerning their strengths and weaknesses. Both classwork and homework are given for the purpose of reinforcing, facilitating and encouraging independent learning. Teachers provide timely feedback for students to measure their achievements, inform students of their performance and encourage further progress.
S.4 - 6
MODE OF ASSESSMENT
The assessment will consist of a public examination component and a school-based assessment component as outlined in the following table:
Component
Weighting
Duration
Public Examination
Paper 1 Reading
Paper 2 Writing
Paper 3 Listening & Integrated Skills
Paper 4 Speaking
20%
25%
30%
10%
1.5 hours
2 hours
About 2 hours
About 20 minutes
School-based Assessment (for school candidates only)
15%
Achievements
71st Hong Kong Speech Festival
Choral Speaking, Secondary 3, Mixed Voice
Second runner-up
3B, 3A & 3D
Solo Verse Speaking
Merit

1A Lee Tsz Ho
2D Chan Po Sheung
4E Wong Kit Yin
5B Lau Lok Yiu Serena
70th Hong Kong Speech Festival
Choral Speaking, Secondary 3, Mixed Voice
First Runner-up
3B
Solo Verse Speaking
Second Runner-up
1A Chan Wai Lun
Merit

1A Wong Hin Tat
1A Chan Po Sheung
1B Lui Yeuk Yu
2A Chan Yuk Kwan
2D Du Zhishan
2D Chan Chi Hin
3B Pun Man
3B Mar Si Wan Charlize
3B Wong Yan
3B Lee Cheuk Wing
3B Wong Kit Yin
3B Wong Yin Tung Shirley
4A Wai Tsz Yan Wendy
4A Lai Jiayi
4D Hui Ka Kwan
4D Ngan Cheuk Tung
4D Mok Wan Ting
69th Hong Kong Speech Festival
Choral Speaking, Secondary 3, Mixed Voice
Champion
3B
Solo Verse Speaking
Champion
4D Chan Kei
Second Runner-up
2C Wong Kit Yin
Merit

1A Chan Sze Wing, Wing
1B Chan Chi Hin
1B RIBEIRO CHRISTINA
1B Lee Yan Wing
1B Chung Uen Ying
1C Wong Yi Hei
1C Lam Wai Na Ann
1C Du ZhiShan Susan
1C Chu Ka Ying Ashley
1D Chan Yuk Kwan
1D Heung Ching Ngo
2A Leung I Pan
2A Law Tsz Ying
2A Mak Man Hei
2A So Kin Pang
2A Ng Tsz Shun
2A Yeung Shun Kwong
2A Mak Yee Man
2A Tso Cherwis Chi Hin
2A Ting Tong
2A Ho Chun Po
2A Lau Hiu Yan
2B Ng Wai Yan
2B Tong Sze Ching
2B Ho Suet Hang
2B Cheung Wan Wai
2B Chung Ka Yi
2B Wong Hoi Ching
3A Wong Hiu TungTing
3A Lau Lok Yiu Serena
3A Wai Tsz Yan Wendy
3B Chan Kin Fai
3B Ngan Cheuk Tung
3B Mok Wan Ting
3C Yip Lok Lam
3C Cheng Chun Hin Roy
4C Ko Ching Yin
4C Law Nga Yan
4C Wong Yin Tsing Erica
4C Choy Hiu Mei Ada
4D Ngai Ping Ting Tina
4D Cheung Hoi Lam
4D Chow Lee Lai
4D Huang Qiman
5D Tan Ching Yan
6B Fung Suet Wun
2019 World Book Day Fest Towards a Reading City
My Favourite Game Booth Award

1A Chan Wai Lun
1A Tse Wai Ki
1A Xiang Tsz Ching
1B Cheung Chun Fung
1B Wong Man Chun
1D Hui Yan Tung
1D Lam She Yi
2A Chan Yuk Kwan
2A Fan Tsz Ching
4C Ma Hiu Tung, Karen
HKFYG The Standard Chartered Hong Kong English Public Speaking Contest 2015
Merit

1C To Yi Pui
1C Lee Yuen Fei
Good People, Good Deeds: English Story Writing Competition 2015 - Tung Wah Group of Hospitals
Merit
3B Tan Ching Yan
Activities
The development of our students' English language skills is addressed by the school's efforts in creating an English-rich environment both within and outside the classroom, where students of all levels are able to benefit from and enhance their language skills at their own pace through authentic experiences. Authenticity is achieved through the following activities:
Overseas study tours
Inter-class Poem Reading Aloud Competition
English Day
English Week
English Language Institute/China (ELIC) Summer Camp
WSE Cosmopolitan Youth English Summer Camp
Summerbridge
Oxbridge Summer Camp
Synergy Summer Camp
English Ambassadors
Elite Study Circles
Drama Appreciation
Outing (e.g. Out and about in Stanley)
Fashion Show
Photos
English Day

| | |
| --- | --- |
| | |
English Language Institute/China (ELIC) Summer Camp

| | |
| --- | --- |
| | |
| | |
WSE Cosmopolitan Youth English Summer Camp

| | |
| --- | --- |
| | |
English Ambassadors

| | |
| --- | --- |
| | |
Elite Study Circles

| | |
| --- | --- |
| | |
Fashion Show

| | |
| --- | --- |
| | |
Inter-class Poem Reading Aloud Competition

| | |
| --- | --- |
| | |
Inter-class English Song Singing Contest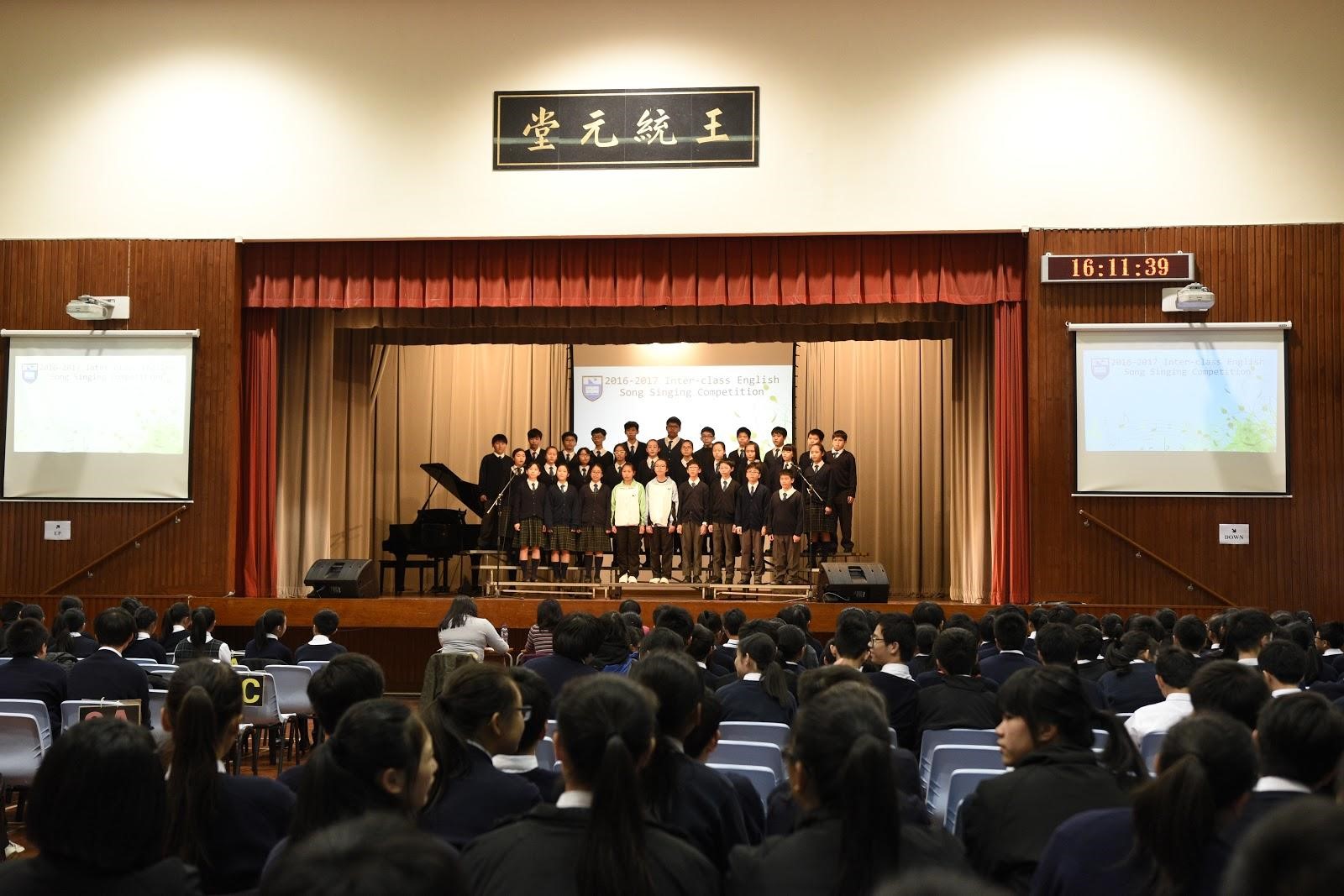 S.1 Inter-class Competition (Quizpedia)

| | |
| --- | --- |
| | |
Extended Learning Activities - Overseas Study Tours